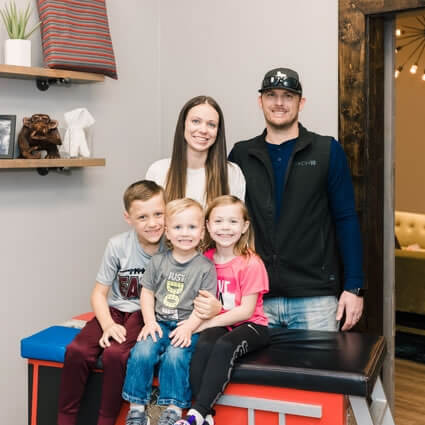 Family Chiropractic at
ProHealth Chiropractic Center
Did you know that families that get adjusted together are just healthier? We often find that people come to ProHealth Chiropractic Center are looking for help for one of their children or family members and before we know it, we are caring for the whole family, and often times…their grandparents!
NEW PATIENTS

Everyone's Children, Mom's, Dad's, Grandparents' Nervous System Can Use Support and Help with Adapting to Daily Stresses of Everyday Life!
A Whole Family Practice
We are honored to be a whole family practice, caring for all family members and helping newborns hours of age to grandparents enhance their health! Majority of our practice is built upon whole family wellness — coming weekly to get checked and make sure their nervous system, immune systems, and development is as optimal as possible.
If you are ready for your family to experience this life in health and give your family the advantage of true health care — promoting health and not just chasing symptoms to symptoms…you are in the right place! Chiropractic is focused upon getting to the root cause of challenges and making sure to address it! You are either teaching to build their health or react to the symptoms of their failing body's. It is time to honor the innate God given potential that they were created to have. It is your duty as a parent to take ownership of your family's health and move them in to a proactive lifestyle instead of an approach that is based on reacting to symptoms.
Make sure to ask about our proactive plans to make sure your whole family can enjoy the benefits of a balanced and well-adjusted nervous system!
Come On In, Y'All!
Are you ready to change your life or start helping your child live their best life? Come on in! We would love to meet you! Experience our one-of-a-kind new patient Discovery Process, see how we can help, and learn more about our Pro-Active approach to health and wellness!
Did you know that families that get adjusted together are just healthier? We often find that people come to ProHealth Chiropractic Center are looking for help for one of their children or family members and before we know it, we are caring for the whole family, and often times…their grandparents!
Get Started Today
We are honored to be a whole family practice, caring for all family members and helping newborns hours of age to grandparents enhance their health! Majority of our practice is built upon whole family wellness — coming weekly to get checked and make sure their nervous system, immune systems, and development is as optimal as possible.
CONTACT US

Family Chiropractic Corsicana TX | (903) 874-2211